I should have gotten this camera a long time ago!
I finally bit the bullet and bought a new film SLR, thinking that I would eventually go to digital, but wanted to start buying lenses now that would work on a digital camera in a few years. That narrowed my choices to Nikon or Canon. Since I didn't want to spend a lot of money for a film body, that left me with the Nikon N65 and Canon EOS Rebel 2000. The Rebel won out for its' partial metering, the cheaper battery pack, and Canon's willingness to support gray-market cameras. Nikon doesn't seem to understand that whether I buy a gray-market camera or a USA camera, it's still a Nikon to me.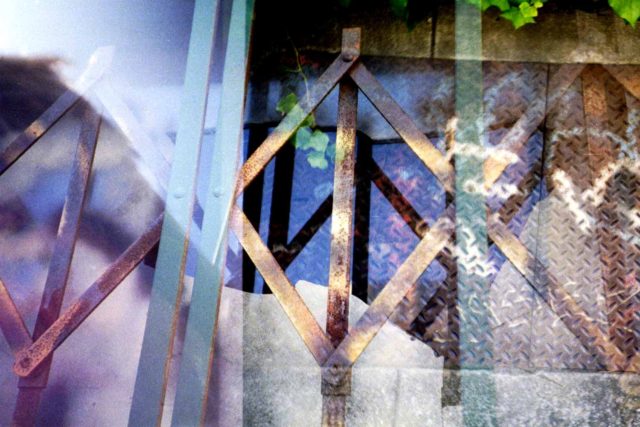 Of all of the inexpensive cameras out there, the Canon is not the most featureful option out there, but it seems like a good entry-level camera to grown into – metered manual mode,�partial metering, depth of field preview and ASA override are all features the Rebel has that some of the other low-end cameras are missing. For someone looking for a glorified point-and-shoot, they're unnecessary features, but features you'll miss as you become more advanced. The Minolta Maxxum 5 has all this and more, including a faster top shutter speed, but I don't know about Minolta's digital plans – they seem to be concentrating on ZLR (Zoom lens-reflex) cameras without interchangeable lenses.
The Rebel 2000 is about the size of my AE-1 Program, but much lighter – the body is polycarbonate, as is the lens mount. This is a point of some concern for some people, but not for me. I baby my cameras, and I'm not expecting to get 20 years out of this body. It's a little small for larger hands, but there's a battery pack available for $30 that adds a little length to the body and adds a vertical shutter release. The battery pack takes 4 AA batteries, so it will pay for itself in a while (The CR-2 batteries the camera normally takes are expensive!)
Without the battery pack, and with a 50/1.8 lens (one of the sharpest, lightest, cheapest lenses available in the Canon EF mount) you barely know it's over your shoulder.
The Rebel 2000 has most of the features of its' more expensive siblings – 35 point matrix metering, 7 focusing points, creative modes, aperture/shutter priority, metered manual mode, built-in flash and red-eye reduction. You trade some performance for the low cost and weight – slower flash sync speed than the Elan 7, slower motor winder, and no speed dial on the back. Judging by some of the online reviews, you'd think the lack of a speed dial was a cardinal sin. For $150 less, I'd suggest trying the camera bodies out and seeing if it's an issue for you. I decided I'd rather have a featherlight body and $150 to spend on a better lens.
Speaking of lenses, don't bother with the kit 28-80 or 28-90 zoom lens (shown in the picture). They're alleged to be soft, show significant pincusion distortion at the long end and vignette at the wide end. Buy a new body and pick up an old Canon 28-80 model I, a Sigma 28-105 2.8/4 Aspherical IF lens or a Canon USM 28-105 3.5/4.5 lens. The only problem with either of those 28-105 lenses is that they're heavier than the camera body, but they're both very nice lenses. You definitely have to cradle the camera with your left hand when shooting, or else the camera will want to tip down.
I shoot with the 28-105 when I need the long-ish focal length for portraits, but do most of my creative shooting with the 50/1.8 – the lens is light, extremely sharp, and fast enough to allow for existing-light photography with 400 speed film. Then again, I'm a prime lens fan – you can't approach the sharpness and speed of a prime lens, unless you spend a LOT of $$$ on an Canon L-series lens. If Canon made an inexpensive 85 or 105 lens, I'd chuck the zoom completely.
The flash is basic, but it will do fill-flash in the program modes. I have yet to try it, but apparently it can evaluate whether your focus point (for example, a backlit face) is darker than the background and kick off some flash to brighten things up. With an external dedciated flash, you get no more red-eye, fill flash, high-speed sync, and rear-curtain sync.
The "creative" program modes are nice for beginners, but I find myself using aperture priority or full program mode the most – with a zoom lens, I want to keep the lens in the middle apertures, and so force the aperture to f/5.6 to 6.7 or so. With a fast lens and fast film, I can leave it at full program and shoot away. With this camera, you have the option of going totally manual, partially auto, or complete PHD ("Press here, dummy!") mode.
---
Specifications:

Type: 35mm focal plane shutter SLR (Single-Lens Reflex) autofocus/autoexposure camera with built-in motor drive and retractable flash.

Lens Mount: Canon EF Mount (electronic signal transfer system)

Usable Lenses: Canon EF lenses

Viewfinder: SLR-type, eye-level roof prism mirror gives 90% vertical and horizontal coverage of actual picture area and 0.70x magnification with 50mm lens at infinity.

Mirror: Quick-return half mirror

Standard Diopter: Adjusted to -1 (18.8m eye relief)

Focusing Screen: Fixed, full-surface new laser-matte screen marked with focusing points.

Viewfinder Information*: Numbers and symbols displayed by LCD at bottom of viewing area (Yellow-Green)

Shutter speed (If unsuitable, blinks at 2 Hz as a warning.)

Aperture (If unsuitable, blinks at 2 Hz as a warning.)

* Indicates AE lock or FE lock (Partial meter at center.)

Focusing point indicator. (The indicator for the selected focusing point is displayed while the shutter button is pressed halfway or during metering.)

Exposure level scale with dot indicators in 1/2-stop increments. ( 2 stops)

Lights when flash is ready; blinks at 2 Hz if flash range is ineffective during FE lock.

H – Lights during high-speed sync (FP flash)

In-focus indicator. (Blinks at 2 Hz if focus can not be achieved.)
* Viewfinder information display can not be turned off.

Shutter: Vertical-travel, focal plane shutter with all speeds electronically controlled. Front and rear shutter curtains both have dedicated electromagnetic release control. (Curtain speed: 6.3ms/24mm).

Shutter Speeds: 30 to 1/2000 sec.; Bulb; X-sync at 1/90 sec. Can be set in 1/2-stop increments.
Autofocus
AF Control System: TTL-SIR (Secondary Image Registration) CMOS (Complementary Metal Oxide Semiconductor) sensor.
Focusing Point Selection: The focusing point can be selected by camera (automatic) or by user (Manual).
Focus Modes:
Autofocus One of the following two AF modes is set automatically depending on the picture-taking mode. The shutter does not release until focus is achieved.
One-Shot AF: Autofocus locks when focusing is achieved.
AI Servo AF for automatic switching between One-Shot AF for stationary subjects and predictive AF for moving subjects.
Manual Focus Setting the lens' focus mode switch to MF enables manual focusing with the focusing ring.
Focus Operation: Autofocus is activated by pressing the shutter button halfway.
AF Working Range: EV 1-18 (at ISO 100)
AF-assist Beam: Automatically emitted when necessary and aimed at the area covered by the active focus point.
Exposure Control
Light Metering:

TTL full-aperture metering using 35-zone SPC (Silicon Photocell). Three metering patterns available.

Evaluative metering.

Central partial metering which covers approximately 9.5% of the finder area.

Centerweighted average metering (Set automatically in M mode.)

E-TTL: 7-point, 35-zone through-the-lens flash metering used exclusively with EX-series EOS Speedlites.

A-TTL, TTL Flash Metering; 3-point, 4-zone off-the-film flash metering used with built-in flash and all EOS Speedlites except EX series.

Metering Range: EV 2-20 (with 50mm f/1.4 lens at ISO100).

Exposure Modes:

Intelligent program AE with variable shift.

Shutter speed-priority AE

Aperture-priority AE

Auto DEP

Full Auto (Intelligent program AE, unshiftable)

Programmed Image Control Modes: Portrait, Landscape, Close-up, Sports and Night Scene.

E-TTL program flash AE

A-TTL program flash AE

TTL program flash AE

Metered Manual
Exposure Compensation
Auto Exposure Bracketing (AEB) up to 2EV in 1/2 steps.

Manual exposure compensation up to 2EV in 1/2 steps.

Unavailable in the Full Auto and Programmed modes.
Multiple Exposure
Up to 9 exposures can be preset. Automatically clears upon completion. Cancelable midway.
Film Transport
Film Speed Setting: ISO 25-5000 automatically set in 1/3 step increments according to DX code; can also be set manually from ISO 6-6400 in 1/3 step increments.

Film Loading: Automatic prewind system. After film positioning and back cover closure, the film automatically winds to the first frame.

Film Transport: Single-frame advance or continuous advance set automatically according to the picture-taking mode.

Film Wind: Automatic. One of two modes is automatically set: Single Frame or Continuous. (In Continuous mode with AF locked, approximately 1.5 fps and in AI Servo AF mode, approximately 1.3 fps.)

Film Rewind: Automatically rewinds at end of roll.

Quiet Film Transport: Film winding sound level: approximately 60 db.

Film Transport Confirmation: By up/down counting of frame counter in LCD panel.
Built-In Flash
Wide 28mm
Tele 80mm
Negative
Reversal
Negative
Reversal
ISO 100
3.3~15.8 ft.
3.3~11.2 ft.
3.3~9.9 ft.
3.3~6.9 ft.
ISO 400
4.0~31.7 ft.
4.9~22.4 ft.
3.3~19.8 ft.
4.9~14.2 ft.
Type: Built-in, retractable TTL autoflash head in the pentaprism. Auto pop-up and serial-controlled.

Guide Number: 39 ft./12 m (ISO 100)

Flash Coverage Angle: Covers the angle of view of 28mm lens.

Recycling Time: Approximately 2 seconds. The "flash ready" icon lights in the viewfinder when ready.

Flash Duration/Color Temperature: 1 millisecond or less/equivalent to daylight.

Shooting Distance Range*: with EF28-80mm f/3.5-5.6 standard zoom lens

* At distances closer than 3.3 ft. (1 m), flash coverage will be partially obstructed by the lens barrel.

Red-Eye Reduction: Red-Eye reduction lamp lights while the shutter button is pressed halfway and focusing and metering are achieved.
Power Source
Shooting Conditions
Ambient Temperature
AE 100%/Flash 0%
AE 50%/Flash 50%
AE 0%/Flash 100%
Normal Temperature
(68F/20C)
60
24
12
Low Temperature
(4F/-20C)
40
16
8
Battery: Two CR2 lithium batteries housed inside the camera grip.

Battery Check: Battery level is displayed by the battery level indicator on the LCD.

Shooting Capacity: The table below indicates the number of 24-exposure rolls that can be taken with two new CR2 batteries and Canon EF28-80mm f/3.5-5.6V USM lens.
Dimensions
EOS Rebel 2000:
Approx. 11.8 oz./335 g. without battery
Approx. 12.6 oz./357 g. with batteries
EOS Rebel 2000 Date:
Approx. 12.4 oz./355 g. without battery
Approx. 13.2 oz./372 g. with batteries
Size: 5.5″(W) x 3.5″(H) x 2.3″(D)/140(W) x 90(H) x 58.5(D) mm.

Weight: