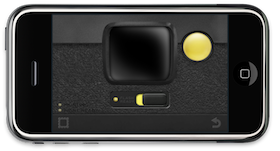 Hipstamatic is an iPhone app that gives your photos a film/plastic camera feel. While there are many other holganizers and lomo-fiers available for iPhones, this is the first application I've fallen in love with. At $1.99, I couldn't pass it up!
From their press materials:
Digital photography never looked so analog. The Hipstamatic for iPhone is an application that brings back the look, feel, unpredictable beauty, and fun of plastic toy cameras of the past. The application keeps the the quirks of shooting old school but gives you the ability to swap lenses, film, and flash settings all with the swipe of a finger.
Characterized by vignettes, blurring, over saturation, discolored images, Hipstaprints have a casual and seemingly accidental snapshot feel. The Hipstamatic can be downloaded to any iPhone sporting the 3.1 or beyond software update. For $1.99 you can download the base model Hipstamatic 100 which includes the John S and Jimmy Lenses, as well as Ina's 1969 and Kodot Verichrome film and a standard flash option complete with humming sound. Additional lenses, film, and flash options can be added on within the app and start at 99 cents.
Pictures taken with the Hipstamatic have their very own look and unique character. Artistic and painted with light and quirk, Hipstamatic images are sometimes surprising and offer a delicate beauty turning any iPhone into an instant art making machine. Images can be uploaded directly to your Facebook album or emailed to your friends and family.
…And, no, I haven't given up on film photography – I still have a freezerful of film to shoot!

Want more info?
Leave a Reply
You must be logged in to post a comment.